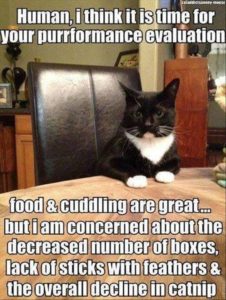 This is the post for January 11, 2018.
Notes for Today
Include completion of the SPOT survey as evidence of your work to earn a grade higher than B.
No peer feedback required for the Performance Review. Your Review focuses on your grade in the course, which is private and personal. Any assignment that required you to share details about your grade would be a FERPA violation, so there is no peer feedback. If you personally want to share your draft with someone, you may. You can decide to share the information, but there is absolutely no requirement to do so.
Readings for Today
Tasks for Today
Complete the tasks and readings included in the Performance Review Overview Module in Canvas:

Read the assignment and related information on the Performance Review assignment.
Read the Extra Posts for additional information that can help with your Performance Review. Leave a comment if you like.
Complete your SPOT survey, using the advice in the #Fact: How SPOT Evaluations Are Used post.

Record the work you have done for the day in your Labor Log, which is due tomorrow.
---