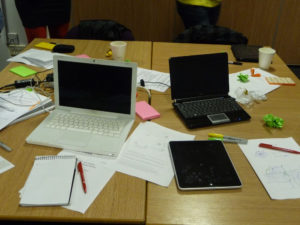 These ten strategies will help make your text stronger and more effective. There is more information on each idea in the linked Lynda.com video, in the textbooks, and on related websites. Some of the Lynda.com videos refer to websites, but the concepts apply to other documents as well.
Additional Resources
Lynda.com Login Help
Lynda.com videos are free to Virginia Tech students with your VT.EDU login. Start at the VT.EDU login page to access these resources.
For a refresher on grammar and punctuation basics, watch the Lynda.com courses on Grammar Fundamentals and Advanced Grammar.
Learn more about design principles by watching the Lynda.com course on Graphic Design for Business Professionals.
The Lynda.com course Editing and Proofreading Made Simple shows you strategies that will help you catch errors before you turn your work in.
Photo Credit: Designer's desk by Katarzyna Stawarz on Flickr, used under a CC-BY 2.0 license.
---